As Bob Dylan once wrote, "The Times They Are a-Changin'" and that's exactly what is occurring as more businesses announce an end to remote work and a mandatory return to the office for their employees in 2023.
Earlier this month, Starbucks CEO Howard Schultz announced corporate employees within driving distance must return to the office three days a week starting Jan. 30. The news follows Disney CEO Bob Igor's announcement to employees that they must return to the office four days a week.
The two corporate giants aren't alone in this matter. According to a survey by ResumeBuilder.com, of the 1,000 businesses surveyed, 90 percent of companies will require employees to return to the office in 2023. Over 60 percent of companies currently require employees to work in the office and 21 percent said they will terminate employees who do not return to the office.
But the residual effects of the pandemic linger on workplace culture with employees now prioritizing work/life balance more than ever before. According to studies, over half of working adults want to work remotely and are eager to do so.
With one side wanting a full return to the office and the other side wanting to continue to work remotely, it puts the employer/employee relationship at an impasse, and everyone searching for a resolution to satisfy both parties.
"I think the last couple of years have been very different for all of us — in different ways — and the market has shifted for the customers," Vice President of Tata Communications Sriram Sampath said in an interview with UC Today. "Communications have changed a very great deal and hybrid workspace is what I think is going to be the way forward."
Enter: coworking spaces.
Like a bright, glowing neon sign, the flexible workspace industry serves as an obvious compromise to those who desire flexibility and productivity. An industry that the Chartered Insurance Institute projects will increase by $13.5B by 2025 and could make the traditional office a thing of the past.
For companies concerned with their bottom line and getting good use out of real estate that often comes with costly and lengthy leases, coworking presents a flexible alternative that includes shorter terms and a variety of work setups. According to some estimates, coworking can save up to 30 percent in operating costs for these businesses.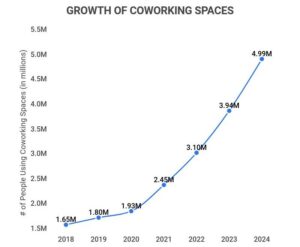 It has proven viable enough that nearly 38 percent of small to medium-sized companies and 27% of startups have opted to use coworking spaces. Reducing business costs is just one of the perks as coworking spaces handle the technology, office equipment, provide a community café, free parking, amenities such as fitness centers, and are there to assist in handling coordinating meetings, and you maintain credibility and professionalism with a business address.
On days your team is needed to be physically present in a hybrid model, coworking centers feature multiple conference rooms of various sizes to accommodate a member's needs. When your business continues to grow, you can change from a designated desk to more private offices, to private office suites.
For those workers exhausted at the idea of commuting to work just to sit in a cubicle and the employer who wants collaboration and not isolation for its employees, a big selling point in the hybrid workspace model is the socialization and networking aspects.
Surrounded by multiple companies and like-minded individuals all sharing the same workspace, you can expand your community by simply walking down the hallway or any time you get a cup of coffee in the community café. Connection without even picking up a phone. The potential for creativity, new clients, new services, and new friends are in abundance.
Returning to the way we conducted business prior to the COVID-19 pandemic is now antiquated. Today, 58 percent of American workers (the equivalent of 92 million people) are working remotely in some capacity. Other surveys show that 65 percent of workers want to work remotely full-time, and 32 percent want a hybrid work model.
There is no waiting for the smoke to clear. It's evident where things currently stand and where the future is headed and as businesses and workers search for answers in the street of compromise, coworking companies explode between them like a runaway freight train extending a ticket to ride.
It can seem like a tall order to handle for those who don't know the industry but want to join the trend which is why there are coworking management and consulting firms such as Workspace Strategies that look at the totality of your operation, do the upfront market research, and develop innovative and meaningful solutions to maximize profits and productivity.
Services include space planning, technology setup, sales and operations management, staffing/training, bookkeeping, marketing in its entirety, creating comfort and convenience for coworking members, and much more. Workspace Strategies currently manages coworking centers in California, Texas, Colorado, Missouri, Tennessee, Maryland, North Carolina, and Pennsylvania, and continues to serve as a consultant for many more.
Workspace Strategies President Karen Condi has over two decades in the flexible workspace industry and has watched it grow from its infancy all the way to its rise in popularity across the globe. According to Condi, hybrid and shared workspaces are going to be the new normal.
"From an investment perspective, we see the coworking model yielding two to three times more revenue per square foot compared to a traditional commercial real estate model," Condi said. "If the market is right, building owners can reap high rewards by converting their building into a shared workspace/coworking space."
Reach out to Workspace Strategies to learn more.