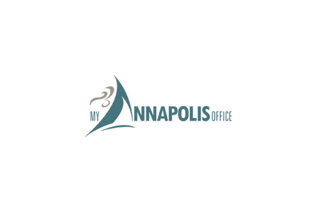 My Annapolis Office is located in Annapolis, Maryland, the state's capital city. Annapolis is just 25 miles south of Baltimore and 30 miles east of Washing, D.C. Annapolis is part of the Baltimore-Washington metropolitan area, which is the most educated, highest-income, and fourth largest combined statistical area in the United States. According to the 2010 census, Annapolis' population is 38,394.
My Annapolis Office has flexible options for a wide range of business owners including meeting rooms, virtual offices, and office space. They also offer professional receptionist services and on-site support staff.
The owner of the building located at 1125 West Street had 14,000 square feet of vacant office space. After an unsuccessful period of searching for a traditional tenant, he turned to the internet to look for alternate uses for the space. That's where the building owner found Workspace Strategies and began to explore installing a serviced office center into that 14,000 square foot suite.
Workspace Strategies' first step was to do a feasibility study for the Annapolis area. The feasibility study assesses the demographics
of the area, economic factors, competition, absorption of vacant space, and market demand for the services a serviced office center provides. After carrying out this extensive feasibility study, Workspace Strategies determined that the 1125 West Street could support a serviced office center. So, My Annapolis Office became the perfect tenant for the building owner's vacant space. He was able to benefit both from the market rate rents paid by the business and the profitability of the business itself.
Workspace Strategies currently manages My Annapolis office. It now contains 48 individual office spaces. With just over a year in business, they are on track with projections and expected to grow even more.