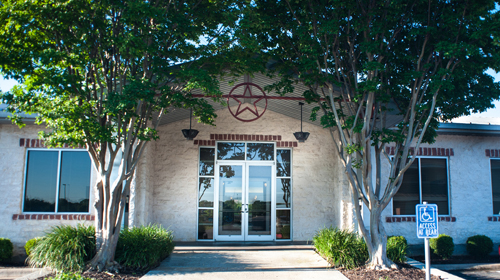 Workspace Strategies created PROS, Professional Receptionist Outsourcing Services, to help shared workspace business' increase the productivity of their on-site staff, provide better customer service to their members & guests, and reduce staffing expenses.  As PROS draws closer to celebrating its first year in business, we invited Christa Wilke, General Manager of Heritage Office Suites in Round Rock, Texas, to share how PROS has impacted her business.
Over the last year, my center has become increasingly busier.  On average, a little over 60% of our clients choose phone answering service with us.  We were answering on average 250 calls per day, and it was beginning to affect the quality of our customer service to our clients and prospective clients.  Answering the phones became almost debilitating for me and my team.  We were unable to walk away from the front desk area to perform other business critical tasks.  We had to hire temporary employees while staff is on vacation/sick. And, we suffered endless interruptions by the high call volume, which hampered sales presentations and in-person customer interactions.  I was even considering hiring additional staff in order to accommodate the workload as we were only getting busier.   I found out that  WorkspaceStrategies (WS) was offering outsourced phone answering through PROS, and I immediately thought, "This is the answer to my many concerns!"  I performed my own analysis, and I realized that I can actually cut some (staffing) costs and continue to experience a nice profit margin by offering phone answering services to my clients, while outsourcing this service to PROS.

The process has been practically seamless as PROS handles our calls the same way our onsite staff did previously but with added efficiency, allowing us to focus more on the customer service tasks at hand. PROS has made it an easy transition as they understand the variety of clientele we serve, especially our Legal Professionals.   They are able to take care of all of our clients professionally and efficiently. They answer with a customized greeting and transfer the caller either to the client's desk phone, cell phone, or voicemail.  They handle our call screening clients by getting the caller's name and the subject of the call.  They, then, contact the client to see if he/she would like to speak to the caller.

PROS reporting has given us an additional revenue source that that we were unable to tap into before.  PROS provides monthly reports that show us each client's call volume. Because of those reports, we are now able to charge our clients for call volumes exceeding 150 calls per month and for other overages that might occur in any given month.  90% of our clients receive less than 150 calls per month so we've built our pricing model around the masses and only have to charge additional fees to those clients that receive an abundant amount of calls.  This allows us to keep our pricing down and for those that need more support, they understand the value and are happy to pay the additional fees involved.

The benefits of outsourcing our phones to PROS have more than exceeded my expectations.  We are able to present a more professional first impression to guests coming into the center.  There are no more loud phones ringing at the front desk while we are trying to serve clients and customers.  We have increased revenue generated from providing various administrative support services to our clients.  The morale of the whole team has improved because they can complete tasks faster without interruptions and leave work with a heightened sense of accomplishment.  Our level of customer service has increased, and the team can be more involved with our sales and marketing.

I would highly recommend PROS to any shared workspace.  We continue to see positive changes as a result of outsourcing our phone services.
For more information on PROS, please visit www.prosanswers.com and feel free to reach out to Karen Condi at 800-239-8174 for an evaluation of your needs to see if PROS would be a good fit for your property!